Seas the Day!
Our boats are run by experienced crew, equipped with rods and reels, and include all the comforts of home. Whether you're fishing with a large party or a small gathering, you'll find all your needs met.
The custom built Gulf Eagle is the largest and most comfortable ride in our fleet. Complete with a heated and air-conditioned cabin with table seating, the Gulf Eagle provides you with the most enjoyable fishing experiences year round. The Gulf Eagle is paired with the latest technology and navigation equipment to help the crew find the big ones live and help you haul them in. We provide the equipment, including a variety of rods, reels, and terminal tackle ranging from 4/0 to 6/0 Penn Senators; you also have the option of bring your own rod and reel from home. This is an incredible boat!
April though October: catch Red Snapper(when in season), Kingfish, Shark, Vermillion Snapper and Ling
November through March go on 24-48 hour excursions to catch: Amberjack(when in season), Yellow Fin, and Black Fin Tuna
Party boat fishing at its finest! The smooth and comfortable Kingfisher is perfect for all kinds of outings, whether with a bunch of friends and family or fora private charter with up to 40 people. Catch Kingfish, shark, Vermillion Snapper, Grouper, Shark, Dorado, and Amberjack (when in season) with the help of our expert captains and deckhands. We provide the equipment, with a variety of rods, reels, and terminal tackle ranging from 4/0 to 6/0 Penn Senators with the option to bring our own rod and reel from home too.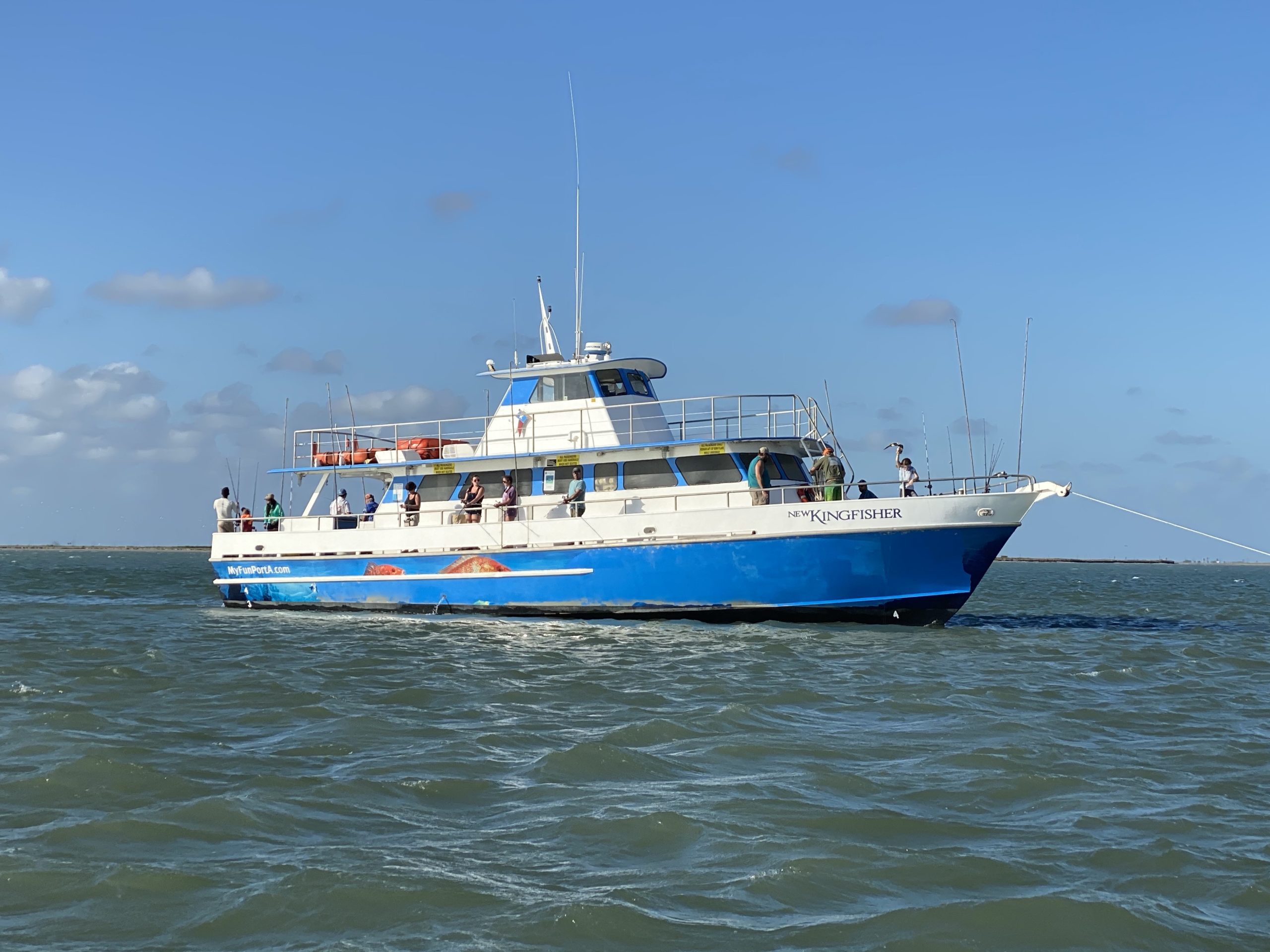 The Pelican is our private charter vessel built to take parties large and small in search of the biggest fish the Gulf of Mexico has to offer. With an air-conditioned cabin providing you with the most enjoyable fishing trips year round, the Pelican is a 70′ vessel that lets you enjoy the pride as much as your fishing experience. Simply the finest on the Gulf Coast!
We provide the equipment, with a variety of rods, reels and terminal tackle. With the best captain and crew that will get you to the best places to catch amazing fish such as Yellowfin Tuna, Blackfin Tuna, Amberjack(when in season), Ling, Vermillion Snapper, and Mako Shark. This is how fishing should be!
In addition to fishing trips, we also offer dolphin tours and pirate cruises on our family of ships!
Constructed in the Fall of 2015, the Scarlet Lady™ is one of the newest tour boats in the Coastal Bend area. Just under 50 feet in length the Scarlet Lady™ can hold up to 49 passengers comfortably with plenty of room, a full bar, and shade to ensure satisfaction on all levels. Being a catamaran style vessel, the Scarlet Lady™ can cruise comfortably through the waters of the Lydia Ann Channel without any worry of its passengers feeling motion sickness. Built for comfort and excitement, the Scarlet Lady™ is the finest Dolphin Watch boat on the Texas Gulf Coast.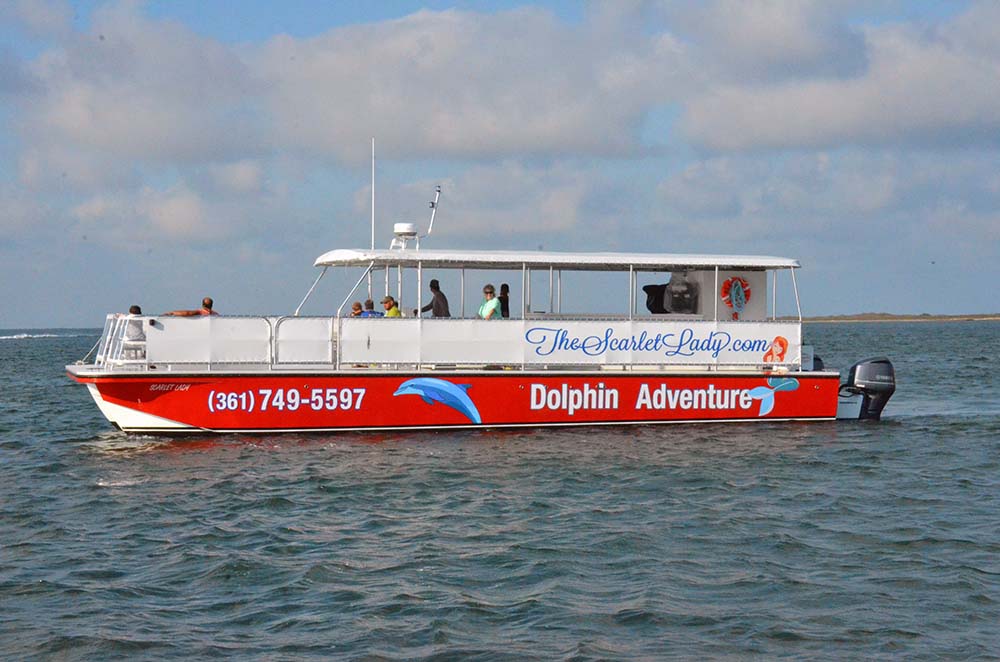 When her cannons roar, you'll think you're in the middle of a 17th century naval battle. She mounts 10 "cannons," fired by computer with a full range of visual and audio effects. Due to her galleon hull configuration, Black Dragon is "sea sweet" and rides like a luxury liner, but she is so nimble, she can turn on her own radius. She can actually execute a 360 degree turn with her mainmast fixed to a position. Although she will seldom venture out of sight of land, Red Dragon is equipped with state of the art navigational electronics including radar, sonar and a very sophisticated GPS system. Every convenience has been considered aboard this mighty vessel. Modern men's and women's restrooms (heads), a full-service bar, and the interactive entertainment make this cruise truly pleasurable.
Private group fishing charters in port aransas
Our private group charters in Port Aransas, Texas offer the perfect blend of adventure, team building, and relaxation for your group. Whether you're planning a small group outing with family or friends, celebrating a bachelor/bachelorette party, or organizing a corporate retreat, we have you covered. Cast lines and create lasting memories in a unique setting.  Give us a call to learn more about how Deep Sea Headquarters can make your next corporate retreat an extraordinary one.
Fishing boat rental in Port Aransas, Texas
The Tica Rica is a 31′ Bertram that is designed to easily catch Snapper, Kingfish, Shark, Dorado, Ling, Wahoo, and other Gulf of Mexico species.
Our small group fishing charters offer an intimate and personalized adventure for you and your companions. Whether you're planning a family outing, or a group of friends looking for a fun day on the water, the Tica Rica is the perfect choice. With our experienced crew, top-of-the-line fishing equipment, and extensive knowledge of the local waters, we guarantee an unforgettable fishing experience. Cast your lines, reel in the big catch, and create lasting memories aboard the Tica Rica small group fishing charters in Port Aransas, Texas. Rod, reel, bait, and tackle are included!
Check availability here. If you're ready to book, we're ready for you!